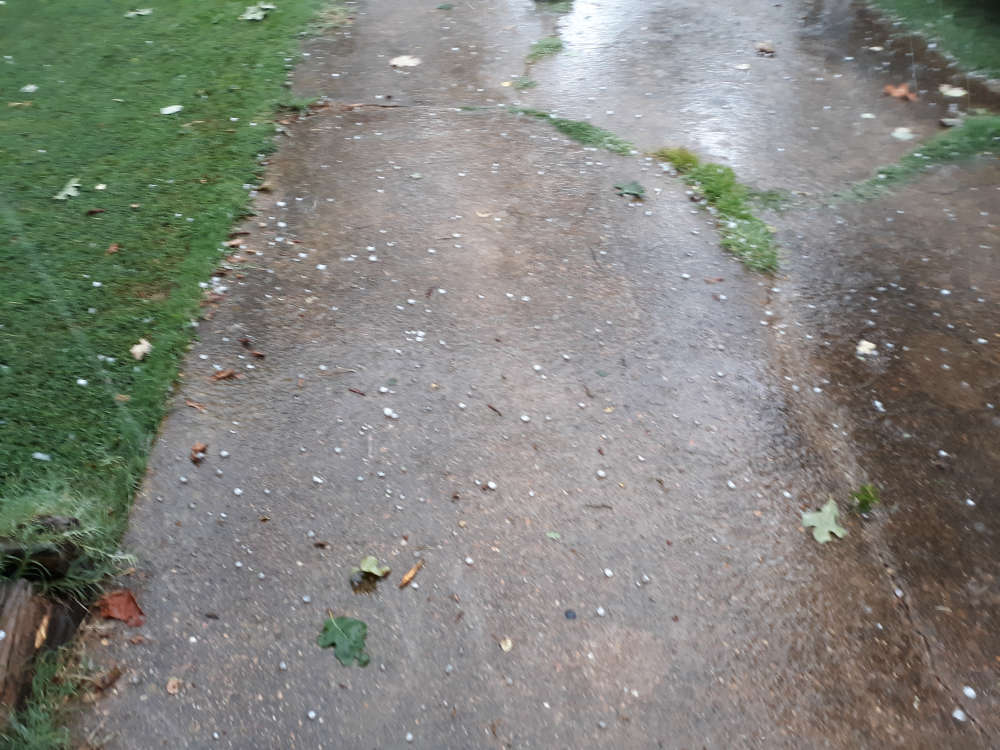 Hail falling during the thunderstorms that moved through Branson Monday. (Photo by Scott McCaulley)
Early evening Thunderstorms dump heavy rain and causes some damage Monday.
UPDATED INFORMATION ON STORM DAMGAE:
Branson Fire and Rescue reports to the National Weather Service that sporadic damage occurred in several parts of the city. At one time, up to six roadways were blocked by trees and/or limbs plus power lines were down in some areas. Plus several traffic signals were out for a time. Areas around Gretna Road and Ivy Lane, the Cantwell Edition were impacted as well as areas around City Hall, the Branson Campground, and Cox Medical Center Branson.
Several areas around Stone and Taney Counties received between two and two and a half inches of rainfall during the Monday evening storms.
ORIGINAL REPORT
The thunderstorm complex began developing late afternoon and moved into the Lakes Region just after 6:00, causing several Severe Thunderstorm Warnings to be issued including two for the Branson Area. Storm Sirens also sounded in Branson for a time when the potential for strong winds was detected.
Reports to the National Weather Service indicated over one inch size hail reported in areas between Branson to Kirbyville with several tree limbs down in areas around Table Rock Dam.
While rain amounts varied due to the path of the storms, several areas did receive brief heavy rain. A portion of Dry Crane Creek in northern Stone County went over its banks for a brief time due to the quick burst of rain. Minor street flooding also occurred for a time around Branson.
While the storms weakened as they moved south, some areas of northern Arkansas also received brief periods of heavy rain and wind.
More rain is in the forecast for today with another extended dry and hot period to begin on Wednesday.