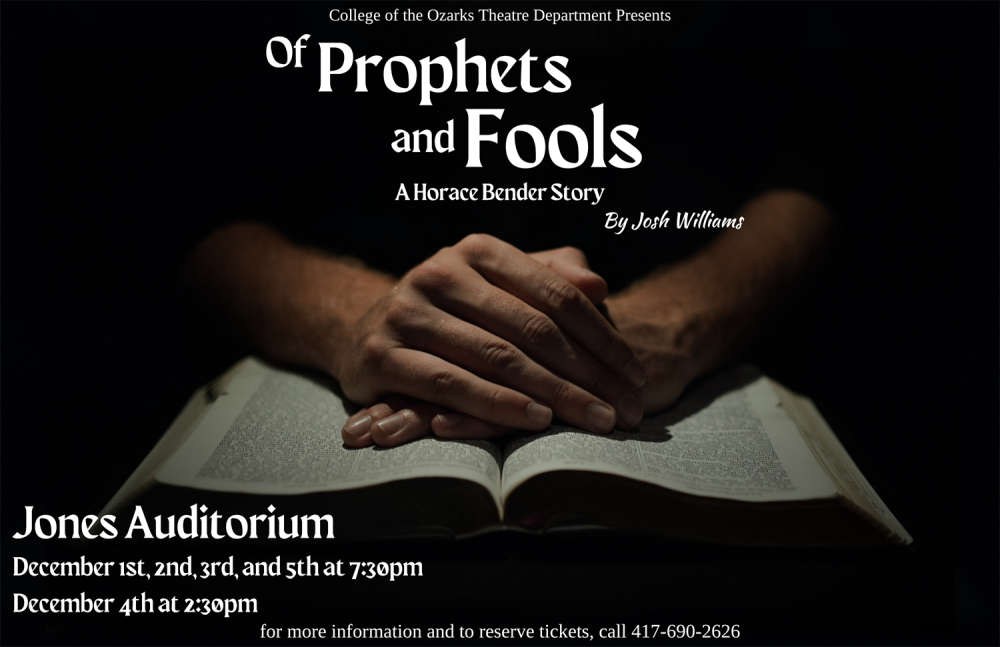 POINT LOOKOUT, MO. — The College of the Ozarks Jones Theatre Company will present "Of Prophets and Fools: The Horace Bender Story," as its winter production.
The performances will take place Friday and Saturday, Dec. 2-3, at 7:30 p.m. and Sunday, Dec. 4, at 2:30 p.m. in the Jones Auditorium. The cost for performances are as follows: adults, $10; senior citizens, $8; students (non-College of the Ozarks), $8; children (12 and under), $6. College Associates will be admitted free upon showing Associates card. Associate guests are $5.00.
To make reservations, call the Theatre Department Box Office at (417) 690-2626.
Play Synopsis
The production, written by Josh Williams, College of the Ozarks 2000 theatre graduate and radio station manager, will be performed by C of O students and directed by Lisa Young, associate professor of theatre. The synopsis of the play focuses on the life of Horace Bender, a young man with a speech impediment, who is kicked by a horse and pronounced deceased. Three days later, he wakes up at his own funeral with a message from God: The world is coming to an end on Sept. 22, 1874. Believing himself to be tasked with a divine assignment, Horace travels the Midwest sharing the news of the impending end of time. Upon meeting Christine, Horace finds that a combination of true love and one man's wrath threatens his mission's success. However, as Sept. 22, 1874 looms closer, it becomes clear that his most significant threat is time itself.
Cast:
Mama Bender, performed by Kamarae Wilson, sophomore music ministry major from Springfield, Missouri
Eddie Boyd, performed by Elijah Lyons, junior music theatre major from Rich Hill, Missouri
Horace Bender, performed by Judah Sawyer, senior music theatre major from Olympia, Washington
Ira Bender, performed by William Bressler, senior theatre major from Jonesboro, Arkansas
Preacher/William, performed by Bradley Shelton, senior theatre major from Rolla, Missouri
Dr. Shaeffer/Amos, performed by Samuel Pitt, sophomore business administration major from Greenwood Villa, Colorado
Gladys performed by Faith Falter, junior Spanish education major from Freeburg, Missouri
Millie, performed by Emma Walters, sophomore criminal justice major from St. Clair, Missouri
Mavis, performed by Susie Johnson, senior music theatre major from West Desmoines, Iowa
Mayor Newton performed by Tierce Carmody, sophomore music theatre major from DeSoto, Missouri
Christine Bennett, performed by Dorothie Goode, senior music major from Vilonia, Arkansas
Reverend Hiram Bennett performed by Jacob Priestner, sophomore communication major from Springdale, Arkansas
Asa, performed by Gage Hauck, freshman elementary education major from Camdenton, Missouri
Eileen, performed by Auna Tayloe, sophomore theater major from Poplar Bluff, Missouri
Anna Stauffer, performed by Phoebe Ulmer, sophomore musical theatre major from Seneca, Kansas
Ensemble performed by:

Josiah Sims, freshman speech and theatre education major from Cordova, Tennessee
Alexander Olson, senior culinary arts major from Florissant, Missouri
Michelle Crain, sophomore video production major from Eureka Springs, Arkansas
Rachel Hall, junior video production major from Kansas City, Missouri
Elijah Clymer, sophomore vocal performance major from Stella, Missouri
Victoria Rivera, freshman theatre major from Siloam Springs, Arkansas
Carmen Bolding, sophomore music theory and composition major from Fort Madison, Iowa