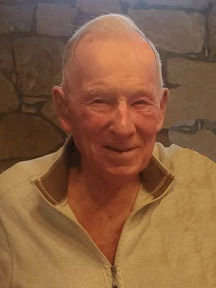 John Everett Ogle, age 94, of Shell Knob, Missouri
John Everett Ogle, age 94, of Shell Knob, Missouri passed away Thursday, September 14, 2023 at his home.
He was born January 17, 1929 in Waterloo, Iowa the son of Courtlandt Northey and Marion Elizabeth (Williams) Ogle. John was united in marriage in Colorado to Anne Menk, who survives. Also surviving are one son, Mark Ogle and his wife Mary of Honolulu, Hawaii; one daughter, Sandra Ogle Murrey and her husband Steve of Texas; one stepdaughter, Sandy Duncan and her husband LaRon of Shell Knob, Missouri; one brother, Bill Ogle of Marion, Iowa; one sister, Judy Ogle Bennett and her husband Bill of Elgin, Iowa and one grandchild, Max.
Preceding him in death were his parents.
John attended school in Waterloo, Iowa, graduating from Waterloo High School. After graduating he attended the University of Northern Iowa. Joining the United States Marines, John served during the Korean War from February 25, 1952 until February 15, 1954. He was awarded the National Defense Service Medal, the Korean Service Medal and the United Nations Service Medal. John worked in sales at TAMKO Building Products LLC and retired in 1998. Playing golf with his wife in Cassville was one of his favorite pastimes. He also loved doing yardwork, hunting, being outdoors and enjoyed horses and guns. He was a member of One Way Church in Shell Knob.
A celebration of life with military honors will be held at 2:00 P.M. Friday, September 29, 2023 at Fohn Funeral home in Cassville. Pastor Michael Barrett will conduct the service.
Contributions may be made to St. Jude Children's Research Hospital.
Visit www.fohnfuneralhome.com for online obituaries, guestbook and private condolences
FOHN FUNERAL HOME
Cassville, Missouri
417-847-2141