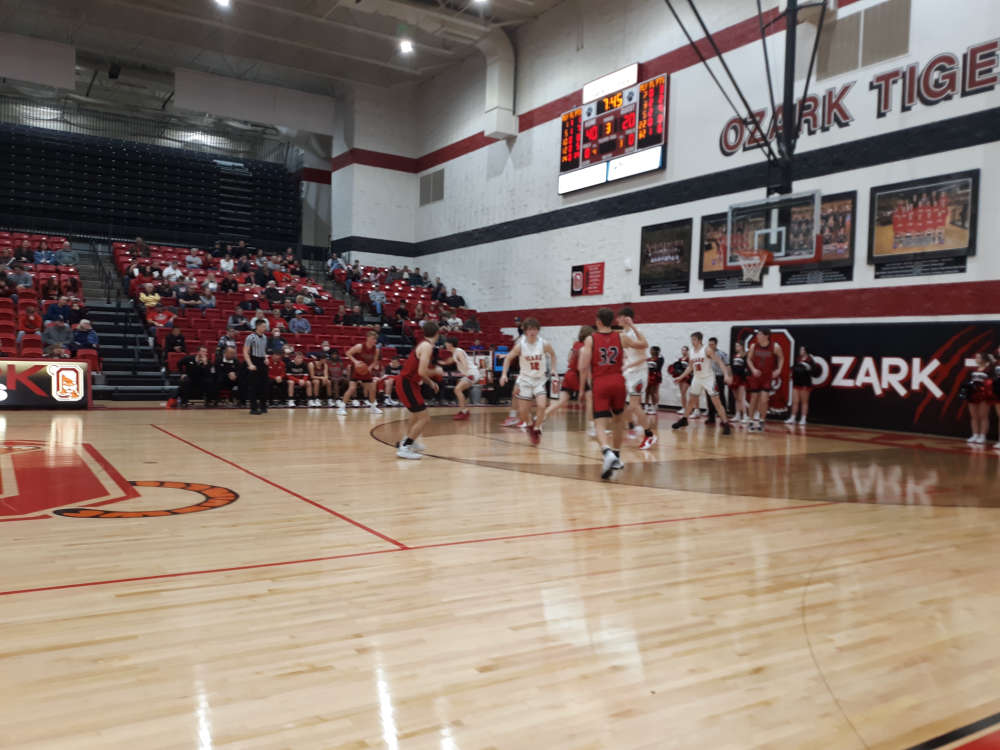 Branson at Ozark in Boys Basketball Action Tuesday night. (Photo by Scott McCaulley)
For the second night in a row, Branson played at Ozark in Basketball Action.
Tuesday night, it was the Boys turn to match-up with the Tigers with the Pirates falling 71-60. After leading by seven at the end of the first quarter, the home standing Tigers continued to push the lead to 20 points and it stayed in that area until a late Pirate surge helped determine the final score.
In other action heard Tuesday night on MOARK Sports, the Forsyth Panther seven game winning streak was snapped at Ava, with the Bears taking a 50-40 win while Reeds Spring suffered a loss at Springfield Catholic 61-25.
Other Tuesday Scores
Boys
Hollister 49 Mount Vernon 46
Seneca 58 Cassville 53
Blue Eye 69 Bradleyville 34
Aurora 75 Clever 43
Monett 67 Billings 30
Girls
Billings 62 School of the Ozarks 32
Chadwick 79 Halfway 23
Clever 59 McDonald County 43
Wrestling
Branson Boys 48 Kickapoo 35
Ozark Boys 56 Branson 21
Ozark Girls 42 Branson 12