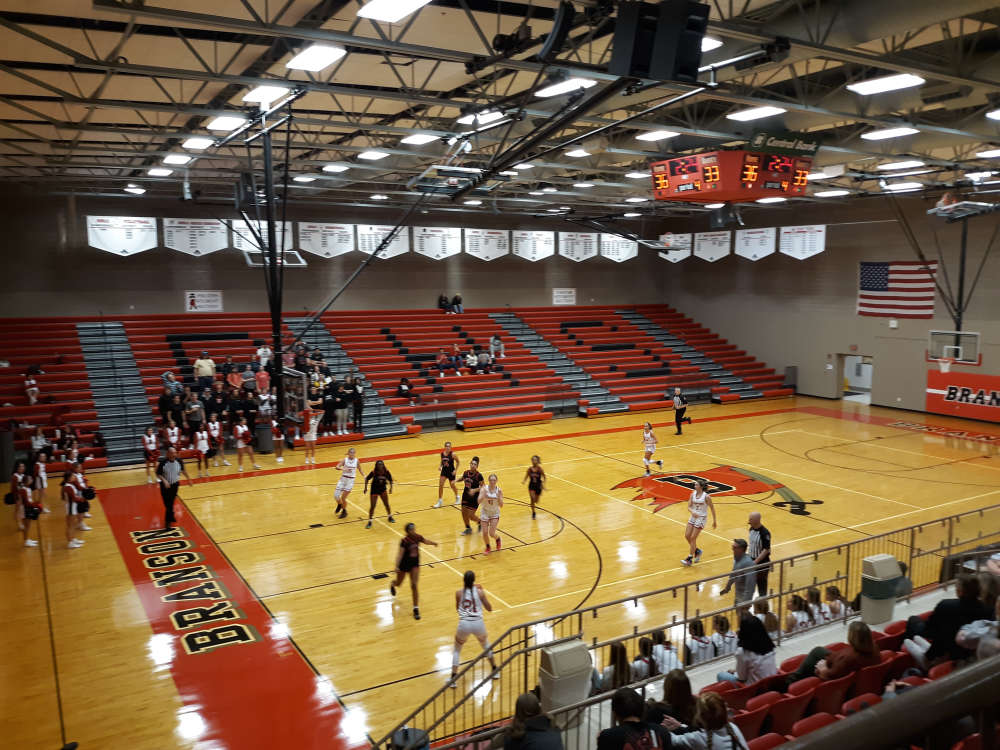 Branson edges Central in Monday's Girls High School Basketball opener for both teams. (Photo by Scott McCaulley)
In games covered by MOARK Sports on Monday, the Branson Lady Pirates open their season with a close win while the Harrison Goblins drop a game on the road.
Branson 37 Springfield Central 35
The Branson Lady Pirates win their opener after trailing by as many as seven points in the second half. While Branson led most of the first quarter, the visiting Lady Bulldogs were able to get the lead in the second quarter and build it briefly to seven in the third quarter, before the Lady Pirates fought their way back and grabbed the lead at the end of third after a Maci Rogers three-point shot dropped in ahead of the buzzer. Central had a quick 6-0 run to start the fourth quarter on a pair of three point shots by Talia Dyson before the Lady Pirates got the lead back with about five minutes to go on another Rogers three point shot. Branson eventually had a one point lead with two minutes left with both teams playing strong defense with a Lady Pirate free throw the only point scored in the game's final two minutes to account for the final margin. Maci Rogers led the Lady Pirates with 12 points while Ellison Mehrhroff added 10.
Vilonia 56 Harrison 36
The Goblins visited Faulkner County for an afternoon tilt against the Eagles and got off to a good start, leading 14-11 at the end of the 1st quarter. Unfortunately for the Goblins, they were held to 22 points for the rest of the game while the Eagles used a 21 point second quarter to get control of the game and drop the Goblins to 1-1 for the season.
Some other scores in the region Monday:
Arkansas
Boys
Flippin 81 Lead Hill 76
Pea Ridge 67 Green Forest 50
Farmington 80 Bergman 56
Girls
Pea Ridge 72 Green Forest 32
Flippin 66 Lead Hill 27
Jasper 84 Central Arkansas Chrisitan 78
Farmington 67 Bergman 43
Missouri
Girls
Ava 79 Hollister 29
Forsyth 72 Seymour 37