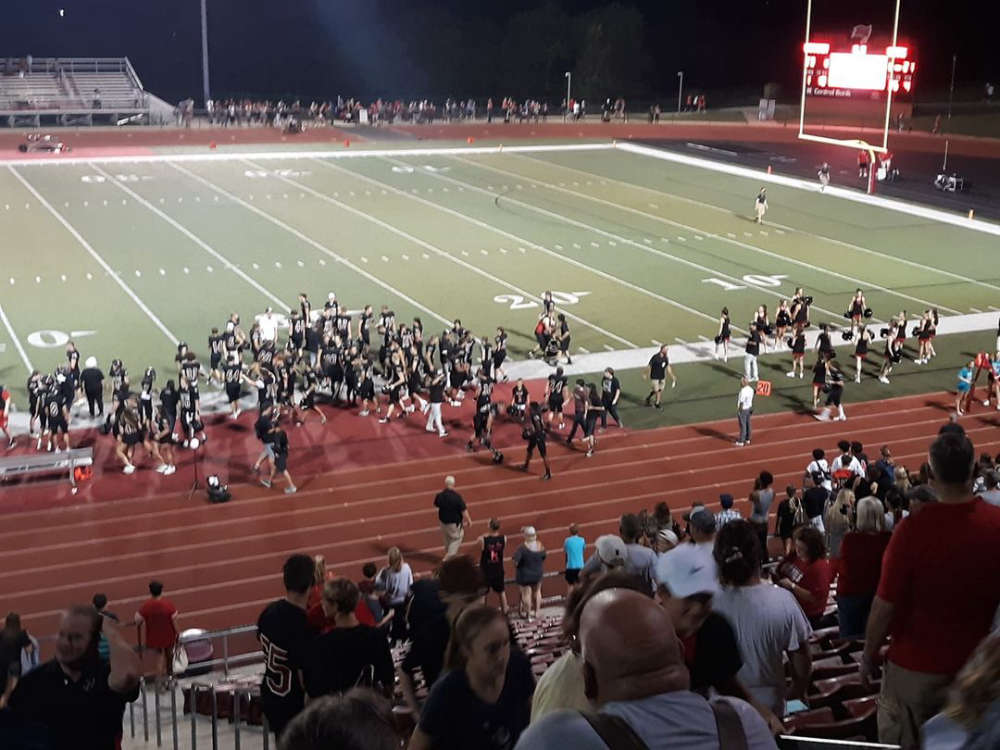 Branson celebrates for several minutes after their last second win over Ozark. (Photo by Scott McCaulley)
H.S. Football Results from Friday night include close rivalry game wins for Branson and Harrison.
Branson 23 Ozark 21
The two schools have played one score games three out of the last four years and Friday's game was no different as the Pirates jumped out to a 20-6 halftime lead only to see the game end with a wild final six minutes. Leading by six, Branson pinned Ozark at their own 1-yard line only to have a blocked punt nullified by a penalty and a fumble recovery waved off after the runner was ruled down. The Tigers end up scoring with just over a minute to go to grab a one point lead. The Tigers return the favor however after having stopped the Pirates on a fourth down, committing a penalty that set up the game winning field goal by Freshman Dane Efrid with seven seconds left to grab the win. Efrid kicked three field goals and Senior Quarterback Tristian Pierce ran for two scores to led the Pirates, who go to 1-1 for the season.
Harrison 28 Mountain Home 21
The Goblins hold on for the win in Mountain Home as a late touchdown drive that could have tied the game was stopped when a Bomber running back fumbled the ball at the 1-yard line with Harrison recovering. With the game tied at halftime, the Goblins came out and scored a touchdown in each the third and fourth quarter to build the lead to 14 and then held on for the win. Quarterback Logan Plumlee threw three touchdown passes to lead to the Goblins to their second straight win to begin the season.
Other Results
The other Lakes Area teams did not fare so well on Friday as Forsyth lost a 34-27 decision to Buffalo, Hollister dropped a 54-28 contest to Nevada, and Reeds Spring loses to Lamar 54-13. Also, Berryville gats a win, 33-20 over West Fork and Yellville-Summit defeats Two Rivers 47-14.
Scoreboard
Branson 23 Ozark 21
Harrison 28 Mountain Home 21
Berryville 33 West Fork 20
Yellville-Summit 47 Two Rivers 14
Forsyth 34 Buffalo 27
Hollister 54 Nevada 28
Lamar 54 Reeds Spring 13
Joplin 28 Nixa 25
Carthage 28 Carl Junction 0
Republic 45 Willard 21
Webb City 49 Neosho 20
Lebanon 33 Kickapoo 16
Glendale 30 Rolla 26
Camdenton 42 Waynesville 7
Aurora 36 Monett 18
Marshfield 35 Cassville 0
McDonald County 45 Catholic 6
East Newton 21 Mount Vernon 14
Seneca 35 Rogersville 21
Skyline 52 Central 14
Marionville 38 Willow Springs 0
Ava 45 Humbolt 0