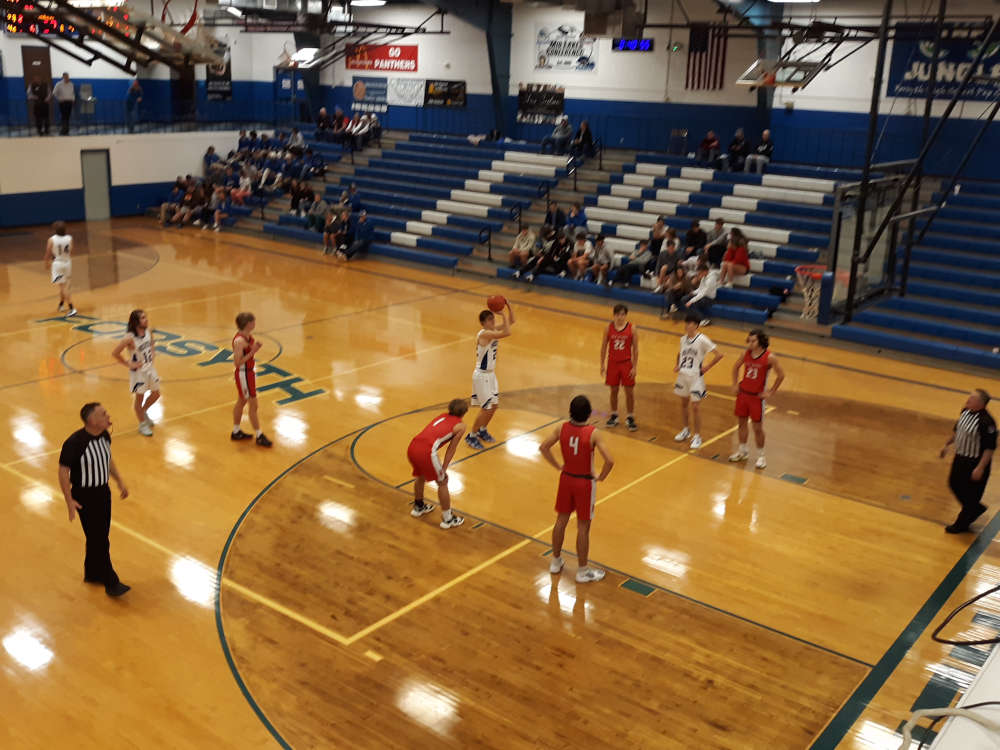 Garrett Snyder at the free throw line adding to his 37 point total in Hollister's win over Carl Junction at the Forsyth Tournament Tuesday. (Photo by Scott McCaulley)
The opening night of the 62nd Annual Forsyth Boys Basketball Tournament covered by MOARK Sports saw the host team and nearby rival both big up wins.
In the opening game of the tournament, the host Panthers quickly put some distance between them and defending tournament champion Gainesville and they pulled away for a decisive 68-35 win. Cooper Voliva hit three 3-point shots in the first quarter to help the Panthers get early control of the game. Voliva ended up leading the scoring with 20 points with Ryder Blevins adding 18.
Meanwhile in the second game, Hollister overcame a stout defensive effort from Carl Junction to claim a 58-46 win. After the Tigers jumped out to an early lead, the Bulldogs picked up the defensive pressure took the lead briefly in the second quarter and stayed close until the latter stages of the game. Garrett Snyder carried the Tigers accounting for nearly two thirds of their scoring netting 37 points as the Tigers remain perfect at 3-0.
The round-robin tournament will continue on Thursday with Gainesville playing Spokane at 6:00 followed by Hollister's game against the Forsyth JV at 7:30. The Panther JV squad is subbing for Reeds Spring who dropped out of the tournament due to the State Football Championship. Coverage of the final day of the tournament Saturday can be heard at MOARK Sports Dot Com.
Meanwhile in other tournament action, Glendale defeats Spokane 75-36 at the Blue Eye Girls Tournament while the other first round match-up goes to Berryville over Reeds Spring 56-29. Play in that tournament will resume on Thursday.
In some regular season games Tuesday in Arkansas, Ozark Mountain's high school teams were swept at Valley Springs. The Tigers beat the Bears in the boys game 51-37 and 72-23 in the girls contest while Lead Hill sweeps Deer 59-26 in the boys game, 67-20 in the girls game.