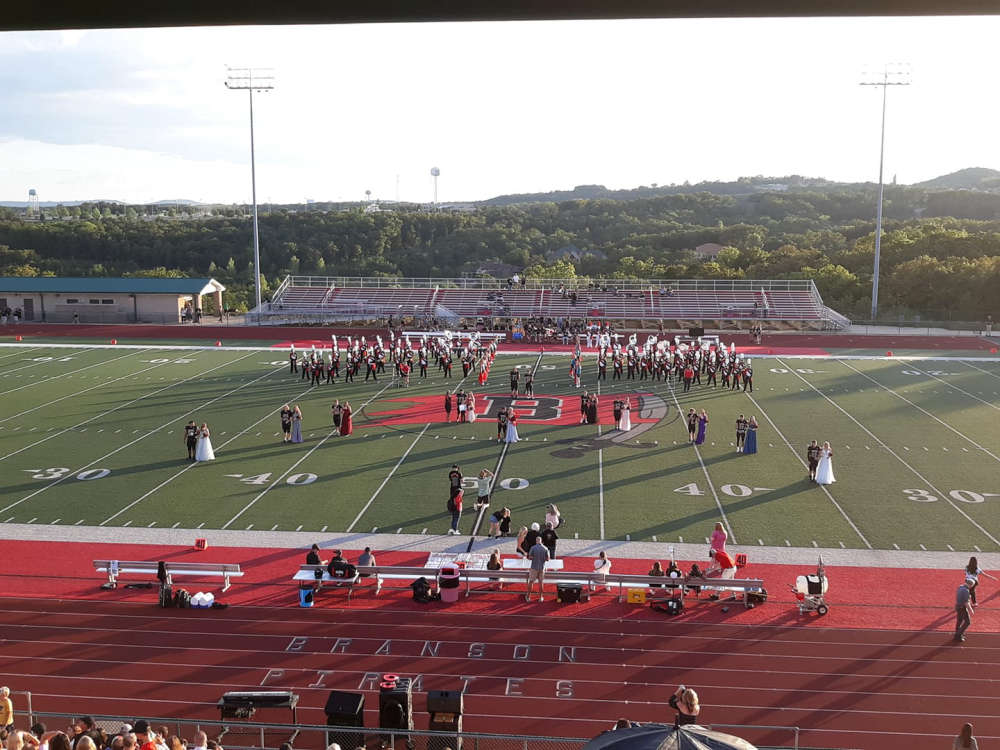 The Branson Homecoming Court prior to Friday's Football Game against Neosho. Senior Brooke Cox was named Homecoming Queen. (Photo by Scott McCaulley)
The Branson Pirates celebrate a huge Homecoming win while Hollister and Reeds Spring notch their third wins of the season in Friday Football action.
The Pirates and Homecoming Foe Neosho combined for six touchdowns in the first quarter alone with the home team eventually pulling away for the 58-28 win. After the Wildcats scored on the games third play, the Pirates scored 20 unanswered points and slowly pulled away. David Hadaller scored four of the Pirate touchdowns in going to 2-2 on the season.
Meanwhile both Hollister and Reeds Spring moved their records to 3-1 as the Tigers held off Marshfield 37-27 and the Wolves exploded in the second half to runaway from Springfield Catholic 62-28. The Wolves host the Tigers in their annual backyard battle next Thursday.
The only area team to lose Friday night was Forsyth, as they fell at Fair Grove 63-13.
In Arkansas, there were close games as Berryville falls to visiting Greenland 22-21 while Green Forest picks up a 14-7 win over West Fork.
Scoreboard
Branson 58 Neosho 28
Reeds Spring 62 Catholic 28
Hollister 37 Marshfield 27
Fair Grove 63 Forsyth 13
Green Forest 14 West Fork 7
Greenland 22 Berryville 21
Carthage 42 Webb City 14
Nixa 21 Republic 10
Ozark 52 Willard 0
Joplin 44 Carl Junction 6
West Plains 53 Camdenton 21
Lebanon 58 Waynesville 20
Glendale 42 Bolivar 27
Rolla 56 Hillcrest 6
Lamar 48 Nevada 22
Marionville 48 Central 0
Aurora 26 Mount Vernon 7
McDonald County 31 Monett 14
Seneca 35 East Newton 7
Rogersville 28 Cassville 13
Ava 59 Mtn. View/Liberty 24
Strafford 69 Clever 6
Mountain Grove 37 Willow Springs 7