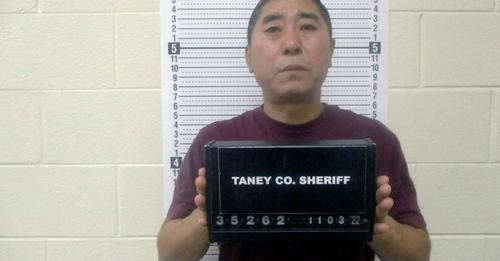 Photo from Taney County Sheriff's Office
An area massage therapist is facing charges of unwanted contact with a customer.
The full story below is from Jason Wert of the Branson Tri-Lakes News:
A massage therapist is under arrest after being accused of committing an unwanted sexual act on a customer.
Yang Li, 53, is facing one count of second-degree sodomy for an incident which occurred on Oct, 31, at Orchid Massage on Branson Landing.
According to court documents, a woman came to Orchid Massage requesting a 90 minute table massage, and Yang Li was assigned to her. The woman told Branson Police near the end of the massage, Li touched the woman in an inappropriate way. According to her account, she initially did not respond to the touch, as she thought it may have been accidental, but he repeated the action.
Li proceeded to commit an unwanted sexual act upon the woman, at which point the victim responded by saying "no no" to Li, who responded by saying "ok ok ok" and stopped the assault.
The victim told police the massage lasted a few more minutes before she got dressed, paid $120 for the services, and left the business without addressing the issue with store management.
She later contacted Branson Police after speaking to family members.
Li has been released on $100,000 bond and is scheduled for an appearance in Taney County Judge Tiffany Yarnell's court on Tuesday, Dec. 13, at 9 a.m. for a bond hearing.