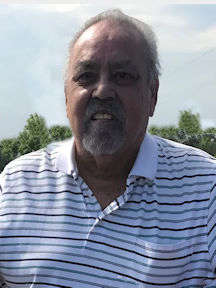 Raymond Frank Velasquez, age 79, of Cassville, Missouri
Raymond Frank Velasquez, age 79, of Cassville, Missouri passed away Friday, January 20, 2023 at Mercy Hospital Joplin in Joplin, Missouri.
He was born in Riverside California on April 1, 1943 the son of Martin and Joanna (Rodriquez) Velasquez. On September 25, 1982 in San Diego, California he was united in marriage to Laureen Decker who preceded him in death. Also preceding him in death were his parents; one stepdaughter, April Burge and one sister, Eleanor.
Surviving are two sons, Joe Velasquez and his wife Sara of Cassville, Missouri and Raymond Velasquez and his wife Claudia of Riverside, California; two daughters Christina Valdez of Riverside, California and Nancy Valdez and her husband Frank of Riverside, California; nine siblings; eleven grandchildren and numerous great-grandchildren.
Raymond grew up and attended school in Riverside, California graduating from Ramona High School. After graduation he joined the United States Navy where he served from 1961 until 1964. Upon returning he attended Riverside Community College where he attained a bachelor's degree in business. Raymond then went to work for Fleetwood Motor Homes where he worked his way up from the bottom to plant manager from where he retired.
Private services will be held at a later date. Cremation arrangements are under direction of Fohn Funeral Home in Cassville.
Visit www.fohnfuneralhome.com for online obituaries, guestbook and private condolences
FOHN FUNERAL HOME
Cassville, Missouri
417-847-2141