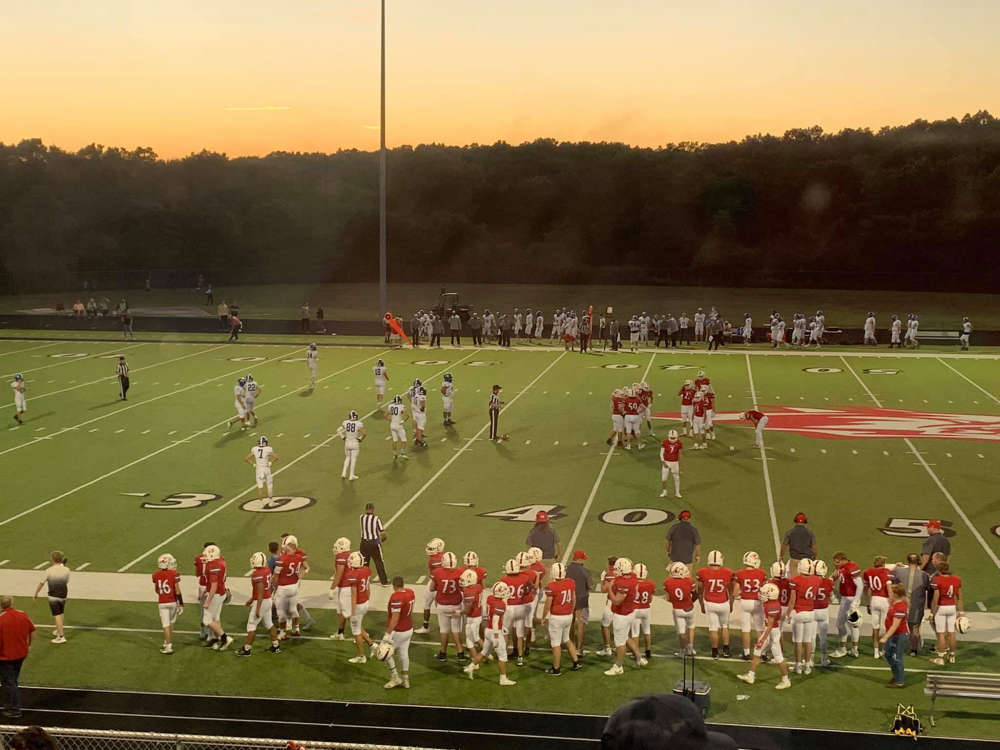 Photo by Tim Church
The Hollister Tigers had lost the previous 14 Varsity Football Meetings with the Reeds Spring Wolves in their Backyard Battle. Thursday night, the Tigers finally break through.
In the closest game in the series to date, Hollister holds off Reeds Spring 26-20 to take home the Backyard Battle Trophy for the first time.
After both teams had promising drives stopped by penalties and turnovers in the first quarter, the Tigers got the offense on track in the second quarter with three Blake Russell touchdown runs while the Wolves got a score from Jace Bolin leading to a 18-6 halftime score.
Evan Gross had a long touchdown run in the third quarter with the two-point conversion pulling the Wolves to within four which was answered on the next drive by a touchdown pass by Luke Calovich which along with the two-point conversion put the Tigers up eight.
Hollister seemed to take control of the game at that point but a fluke play gave the Wolves life, as an attempted screen pass by Calovich that hit the ground was ruled to a be a lateral and was picked up by Gross and returned for a touchdown pulling Reeds Spring within six. The Wolves were able to hold the Tiger offense giving them a couple opportunities to tie or take the lead late in the game, but the drives ended in an interception and a turnover on downs to secure the win for Hollister.
Russell carried the ball 31 times for 238 yards to lead the Tigers to the win.
On top of the first win in the series, the victory kept the Tigers atop the District Standings, Entering the night, Hollister shared the top spot with four other schools including Reeds Spring. The other three schools will play tonight.