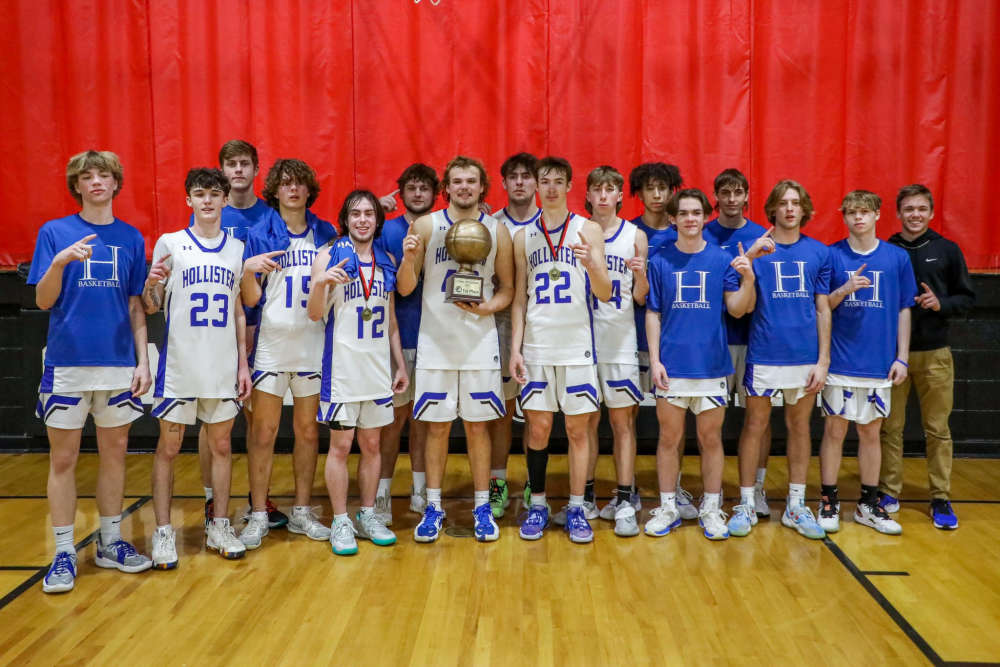 Among the Friday High School Basketball Games, the Hollister Tigers claim the Conway Tournament Championship with a fourth quarter rally.
The Tigers trailed most of game before the used their defense to get their offense on track. Hollister outscored Catholic 15-0 in the final six minutes of the game to claim the 43-36 win and their first tournament title after having played in the finals the previous four years. Garrett Snyder, the tournament's Most Valuable Player, scored 17 to pace the Tigers to the win.
In other action, the Forsyth Panthers advance to the Mountain Grove Tournament Championship with a 70-57 win over Licking in Friday's Semi-final. They will play Hartville for the tournament championship tonight. The Eagles got by Norwood 58-46 to claim the other spot in the finals.
In more tournament action, Branson loses to Strafford in a consolation game at the Bolivar Tournament and will face West Plains in the seventh place game this afternoon.
In other action on MOARK Sports Friday, the Harrison Goblins are swept at Siloam Springs as the Boys drop a 49-46 decision while the Girls lose 58-41.
Friday Scores
Missouri Boys
Hollister 43 Catholic 36 (Conway Tournament)
Forsyth 70 Licking 57 (Mtn. Grove Tournament)
Hartville 58 Norwood 46 (Mtn. Grove Tournament)
Crane 79 Blue Eye 74
Galena 54 Billings 50
Missouri Girls
Billings 55 School of the Ozarks 51
Arkansas Boys
Siloam Springs 49 Harrison 46
Berryville 70 Huntsville 52
Valley Springs 81 Guy-Perkins 52
Yellville-Summit 71 Life Way Christian 51
Ozark Mountain 44 Eureka Springs 39
Jasper 63 Kingston 55
Alpena 73 Oark 56
Arkansas Girls
Siloam Springs 58 Harrison 41
Berryville 62 Huntsville 60
Valley Springs 79 Guy-Perkins 24
Life Way Christian 75 Yellville-Summit 67
Ozark Mountain 56 Eureka Springs 35
Kingston 52 Jasper 46
Alpena 77 Oark 30