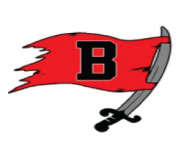 Thursday's High School Basketball action includes a close win over the host team in a tournament.
The Branson Lady Pirates rallied by then held off host Rogersville in the Lady Cat Classic 60-57 Thursday night notching a second win over them this season on their home court. The win will send the Lady Pirates to another rematch as they will take on Webb City in the tournament's third place game. The Lady Pirates and Lady Cardinals met just a week ago with the Webb City getting a 57-54 homecourt win. Tonight's contest can be heard on the Branson Channel at MOARK Sports Dot Com beginning around 6:00. The other games at Rogersville will have the host Lady Cats playing Sparta in the Consolation Final at 4:30 then later, Rolla and Strafford playing for the Tournament Championship.
Also tonight on MOARK Sports, coverage includes the semi-finals of the Spokane Boys Tournament with Reeds Spring playing Ash Grove at 6:00 with Blue Eye taking on host Spokane at 7:30. Also tonight, the Harrison Goblins and Lady Goblins will host Van Buren with the girls contest to start at 6:00. The Harrison Games can also be heard on 94.9 KHOZ.
Thursday Scores
Missouri Girls
Branson 60 Rogersville 57 (Rogersville Tournament)
Clever 65 Crane 49
Glendale 54 Ozark 49 3 OT (Bolivar Tournament)
Spokane 53 Marionville 45 (Marionville Tournament)
Fordland 42 Reeds Spring 34
Missouri Boys
Cassville 62 Bradleyville 25 (Spokane Tournament)
Wheaton 59 Hurley 41